Coating thickness of paint/zinc on steel and iron
Featured Product from Fischer Technology, Inc.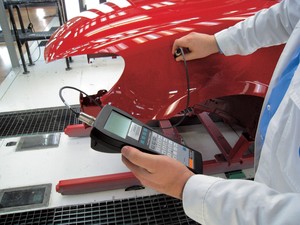 Fischer is an innovative leader in the field of high quality measurement technology, with many instruments applicable to the surface finishing industry from x-ray fluorescence to handheld coating thickness gauges along with the necessary certified foils and standards needed for calibration. The PHASCOPE PMP10 Duplex handheld instrument was specifically designed for the automotive industry to measure duplex coatings (paint/zinc on steel or iron). The thicknesses of the paint and zinc layers are recorded in a single measurement step with the individual readings displayed as separately. Due to the automatic substrate material recognition, paint layers can also be measured on aluminum without changing to a different probe.
This instrument combines 3 measurement methods in one unit:
Magnetic induction method – measures overall thickness of paint and zinc coatings on iron
Amplitude-sensitive eddy current – measures a single paint layer on aluminum
Phase-sensitive eddy current – measures zinc coatings on iron, regardless of overlying paint layers
For the measurement of zinc and paint coatings, the magnetic induction method and the phase-sensitive eddy current method are used simultaneously (duplex), so the individual layers of paint and zinc can be calculated separately. If the substrate is aluminum, the unit automatically switches to the amplitude-sensitive eddy current method and the thickness of the paint layer is displayed.
FISCHER DataCenter (FDC) software significantly expands the functionality of this instrument with data interface and comprises all functions for convenient transfer, evaluation and printing of measurement data. It provides immediate evaluation of the measurement results and a quick overview of the process. Customized reports detailed with your own specifications can be generated immediately. Stop by for a demonstration at Quality Show Booth #1619 or Fabtech Booth # A6356 or you can contact us at info@fischer-technology.com or www.fischer-technology.com for more information.
Please contact your local FISCHER representative for further information.