Nondestructive Micro-structure Wafer Metrology
Featured Product from Fischer Technology, Inc.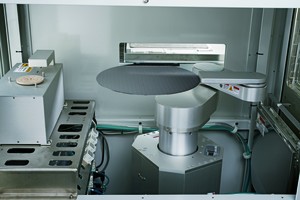 The world's leading EDXRF instrument for non-destructive micro-structure wafer metrology is now integrated with a fully automated handling unit. Ensuring perfect, consistent quality control, the FISCHERSCOPE® XDV-μ SEMI is a key element to successful advanced-packaging production.
Thanks to its highly precise and reliable measurement results, the XDV-μ SEMI's typical task are found in layer thickness and composition analysis of under-bump metallization (UBM) down to the nm scale, C4 solder bumps and smaller, lead-free solder caps on copper pillars, ultra small landing pads and other advanced 2.5D/3D packaging solutions.
Smartly combining leading-edge technologies, both, in wafer handling and micro-structure metrology, the new FISCHER metrology solution XRAY XDV-μ SEMI for advanced packaging and other semiconductor-manufacturing applications enables an entirely new dimension in cost-effective quality control on the factory floor. The combination of reliable, long-life components and intelligent design yields the lowest total cost-of-ownership (TCO) for fully-automated metrology tools in this field.
Safe handling of wafers prevents damage and loss
Repeatable test conditions
Hands-free, independent measurements; no supervision needed
Lowest total cost of ownership for finished wafer metrology