BLOCK-BUSTER® Hydraulic Bulk Bag Conditioners
Featured Product from Flexicon Corporation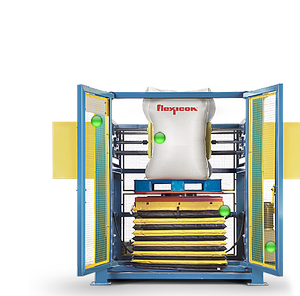 BLOCK-BUSTER® Hydraulic Bulk Bag Conditioners from Flexicon Corporation loosen bulk solid materials that have solidified during storage and shipment, enabling bulk bag unloaders to discharge the material through bag spouts.These conditioners are recommended for bulk bags containing hygroscopic chemicals, certain types of spice blends, heat-sensitive products, and other materials prone to solidifying to the point at which pneumatically-actuated flow promotion accessories integral to bulk bag dischargers are inefficient or completely ineffective.
BLOCK-BUSTER® Hydraulic Bulk Bag Conditioners are available integrated into bulk bag unloading frames, or as self-standing units.
Both configurations utilize two hydraulic rams with specially contoured end plates to press opposing sides of bulk bags.