BULK-OUT® Bulk Bag Dischargers
Featured Product from Flexicon Corporation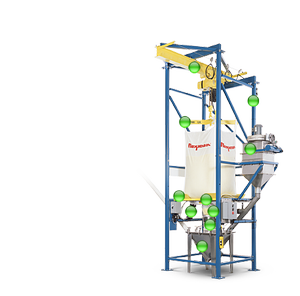 Provide dust-free loading, untying, retying and removal of bulk bags
Flexicon BULK-OUT® Bulk Bag Dischargers, also referred to as bulk bag unloaders, FIBC unloaders and FIBC dischargers, are offered in numerous frame configurations, the two most popular of which are: BFF Series dischargers with bag lifting frame for forklift loading and unloading of bulk bags (FIBCs), and BFC Series dischargers with cantilevered I-beam, electric hoist and trolley for loading and unloading of bulk bags without the use of a forklift.
Other bulk bag unloader configurations include split frames for forklift loading of bags in low headroom areas, half frames for suspending bags during discharge using a forklift, hoistable frames for lifting the entire bulk bag discharger using an overhead crane, continuous loss-of-weight dischargers for uninterrupted feeding directly from bulk bags, and other designs satisfying highly specialized requirements.
All BULK-OUT® Bulk Bag Dischargers are offered with a broad range of innovative accessories (many patented), delivering an unprecedented level of efficiency, cleanliness and economy. A range of integral flow promotion devices is available, as are dedicated bulk bag conditioners that loosen bulk solid materials that have solidified during storage and shipment, enabling bulk bag unloaders to discharge the material through bag spouts.
Revolutionary advances overcome limitations of outdated designs
Just as bulk bags changed the way bulk material was stored and shipped over the last decade, so will these bulk bag dischargers revolutionize the way you load, untie, retie, remove and collapse bulk bags in the future.
No longer must your operators reach through cramped access doors and awkward glove boxes, struggle to retie partially empty bags, clean up spillage after disconnections, dislodge products from dead spots or flatten bags manually.
Performance never before possible
Flexicon's latest generation of bulk bag dischargers can eliminate the drawbacks of outdated designs while dramatically improving convenience, safety and cleanliness. The heart of the new design is a bag spout interface that not only creates a dust-tight seal, but promotes material flow and total evacuation. It also allows easy retying of partially empty bags, and can collapse empty bags-free of spillage and dust.