Bulk Bag Fillers
Featured Product from Flexicon Corporation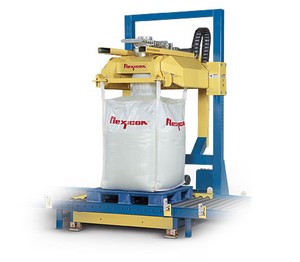 Models to fit every application
Flexicon bulk bag fillers (also known as FIBC fillers) range from basic stand-alone units to sophisticated systems to match the budget and capacity requirements of each customer's application. Each of these configurations delivers optimum performance across specific capacity ranges with maximum cost-effectiveness.
Flexicon's latest bulk bag filling innovation is the patent-pending SWING-DOWN®filler. Designed for medium- to high-capacity applications, this revolutionary design brings the fill head to the operator at floor level for faster, safer and easier bag connections.
REAR-POST fillers are intended for medium- to high-capacity applications requiring pass-through conveyors and/or powered fill head height adjustment.
Flexicon's patented TWIN-CENTERPOSTTM fillers*, satisfy low- to medium-capacity filling requirements and/or sanitary applications where frequent wash-down or compliance with USDA Dairy standards is required.
Lighter-duty versions of TWIN-CENTERPOSTTM fillers, BASIC FILLERSreduce cost, yet offer an inflatable bag spout seal and feed chute dust vent as standard, and a limited list of performance options.
Each of these designs satisfies a distinct range of bulk bag filling applications, and is available with performance enhancements to meet your individual requirements with extreme cost effectiveness. From basic, low-cost fillers to automated, high-capacity systems and everything in between, Flexicon offers precisely what you need for bulk bag filling success.
Low Capacity Fillers to Ultra-High Capacity Feeder/Filler Systems
For fast, accurate, and stable weigh-filling of small to large volumes of free- and non-free-flowing bulk materials, Flexicon bulk bag fillers are offered in two configurations: with load cells which measure weight gain of the bulk bag filler, and with weigh hoppers suspended above the bag filler (illustration at right) allowing simultaneous recharging of the hopper and replacement of the bulk bag to achieve high filling rates.