Flexicon Opens Jakarta Location
Featured Product from Flexicon Corporation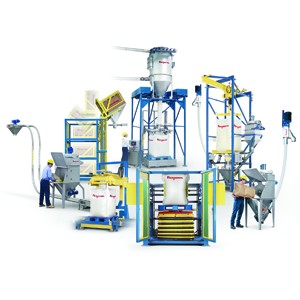 The new location will be headed by Irwan Gunawan, Regional Sales Manager, who holds a degree in Mechatronic Engineering from the Swiss German University of Indonesia and has served in various technical engineering positions since 2010, in the food packaging, automation and petrochemical industries.
He will be responsible for building relationships with plant managers, engineers and other decision-makers in facilities that handle bulk solid materials across the food, pharmaceutical, mineral and general chemical industries.
Headquartered in the USA, Flexicon has marketed its line of bulk handling equipment throughout Australasia since 1974. In 2005, the company established a wholly-owned subsidiary, Flexicon Corporation (Australia) Pty Limited, to manufacture, market and support its entire equipment line in the region. In 2008, the company tripled the size of its facility in Wacol, QLD, and in 2014, added a factory-direct office in Singapore, Flexicon Singapore Pte Ltd. Accelerated growth throughout Southeast Asia created the need for the Jakarta office.
"The local Jakarta staff will have full access to Flexicon's engineering resources which, together with our Lifetime Performance Guarantee, can take the risk out of purchasing bulk handling equipment and systems," explains Mr. Slack.
Flexicon manufactures flexible screw conveyors, tubular cable conveyors, pneumatic conveying systems, bulk bag conditioners, bulk bag dischargers, bulk bag fillers, drum/box/container tippers, manual dumping stations, weigh batching systems and engineered plant-wide systems integrated with the new or existing equipment or processes.