Black Gold – A New Approach
Product Announcement from Flexovit USA, Inc.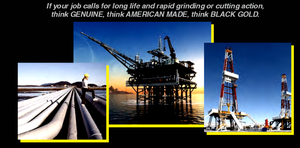 Flexovit's Black Gold program has been specifically designed to cater to each of the four primary segments in the Petrochemical / Oil & Gas industry: pipeline manufacturing, pipeline maintenance, the fabrication of modules for offshore oil rigs, and the maintenance of the rigs themselves. Working closely with end-users in this industry, Flexovit's Research and Development group has developed a highly engineered product offering that will offer the ultimate combination of customer benefits - superior product performance AND cost reduction!
The Black Gold program is comprised of four distinct product categories, in all of the popular diameters, ranging from 4-1/2" to 9" (114 mm to 229 mm). The four product categories are:
Black Gold Grinding Wheels (1/4" thick, Type 27) are manufactured with premium zirconia alumina (ZA) grains and advanced resin bonds. These wheels provide superior performance for the most demanding applications in the Oil & Gas industry. Black Gold grinding wheels are designed for a wide range of applications, including platform fabrication, weld removal, beveling, and edge grinding.
Black Gold Combination Wheels (1/8" thick, Type 27) incorporate a blend of zirconia and ceramic abrasive grains for extremely long life and rapid cutting action. These wheels are designed specifically for the toughest grinding and cutting applications, such as root pass grinding and pipe beveling.
Black Gold Cutoff Wheels (0.125" thick, Type 27) for cutting, notching, and root pass grinding on pipeline and for pressure vessel fabrication. The 0.125" thick wheel has long been an industry favorite for these applications.
Black Gold Thin cutoff wheels (3/32" thick, Type 1 and Type 27) offer an extended number of cuts by resisting premature wear that may result from the extreme conditions found in the Petrochemical / Oil & Gas industry.
The oil and gas industry is critical for North America's current and future economy, and North American customers will take a sense of pride in using American made products in the recovery and processing of this valuable commodity.
To learn more about Black Gold, please visit our website or contact your local Flexovit "Experts in Service" representative TODAY!
Coming Soon…Encapsulated Wire Brushes specifically designed for the Black Gold program!
Flexovit USA, Inc. is a U.S. based manufacturer of high productivity abrasive products for portable power tools. Flexovit is firmly committed to U.S. manufacturing.
Manufacturing Facility
Flexovit operates a modernized 100,000 sq. ft. manufacturing complex located in Angola, New York. These two buildings house the first fully automated bond mixing system in North America, semi-automated press and packaging departments, fiberglass coating line, shipping department, customer service, engineering department, product development lab, customer and employee training facility, sales management and our corporate offices.
Trained Professionals
Flexovit serves the market with a team of highly trained Technical Sales Representatives who provide field support across the United States, Canada and Mexico. Regional sales management is in place to support their initiatives. Technical expertise, advice and product recommendations are available through Flexovit's Technical Support Team, located at our manufacturing facility. Factory trained Customer Service personnel located at our manufacturing facility and our four Sales and Distribution Centers are available to assist customers with orders and inquiries.
Product Performance
Flexovit has developed a variety of objective product testing methods to calculate the actual cost of Flexovit product versus competitive products in a given application. These tests are performed in our Testing Laboratory to ensure that products are meeting the demands of the industries which we serve. These same evaluations can be demonstrated on your site through field demonstration of our P.A.C.E. program. This P.A.C.E. (Productivity And Cost Evaluation) program measures wheel performance, factors in unit wheel and labor cost, and calculates both product cost and full cost for the application under study. The P.A.C.E. program can be run for alternative products, and will then calculate the savings from using the lower cost alternative. This type of analysis is essential for the user that wants to establish their lowest cost alternative, because the lowest priced wheel is often the highest cost product based on the amount of work the wheel can do.
Responsive On-time Delivery
Flexovit products are consistently shipped within hours of receipt of orders.
Customer Satisfaction
Our customers can be confident that whenever they use a Flexovit product, it will perform exactly as they expect. Our ISO Certified Quality System ensures consistent quality and adherence to customer specifications.
Guarantee on Trial Orders
Let our experts help you with your application – we stand by our recommendations. Place a trial order for Flexovit product and if you aren't completely satisfied with the cost-saving results, we will buy back your remaining unused product.
Products:
There are a wide range of Flexovit products available including: Bonded Abrasives, Coated Abrasives, Non Woven Abrasives, Carbide Burs, Wire Brushes and Diamond Abrasives.
Invite us into your facility and TAKE THE FLEXOVIT CHALLENGE!
Here's what we will do for YOU…
Survey YOUR grinding and cutting applications
Scientifically test YOUR products against ours – on YOUR shop floor
Prepare a "Productivity And Cost Evaluation (P.A.C.E.)" from the test results with recommendations on improving YOUR productivity and profitability
GUARANTEE COST REDUCTIONS!
---