State of the Art Electromagnetic Flow Meter
Product Announcement from Flow Technology, Inc.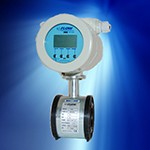 The EL1100 series of electromagnetic flow meters represent the state of the art for the accurate measurement for OEM process applications. This new generation flow meter utilizes an innovative structure to route the electromagnetic signal generated by the electrodes, providing a flow meter with an extremely wide measurement range. With no moving parts, the EL1100J provides a compact installation with wafer connections making it a solid choice for OEMs.
Key Benefits Include:
1.5" to 6"
Compact size
High accuracy
No moving parts
32°F to 212°F
Sealed electrode & coil assembly provides immunity to variation
IP67 protection
MOST SIZES IN STOCK!
For additional specs and technical data please visit our website.
---