Point Level Monitoring & Control Switch
Featured Product from Fluid Components Intl. (FCI)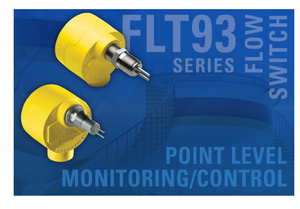 Ideal for Chemical Refining, Food & Beverage, Oil/Gas, Electric Power, Metals & Mining, Pulp/Paper, Water & Wastewater Treatment
Process and plant engineers in search of a reliable point level monitoring and control solution will find the FLT Series Switch from Fluid Components International (FCI) is the answer with its excellent accuracy, dual trip points and relays, SIL 2 rating for ultra-reliability and full Ex agency approvals on the complete instrument.
Point level monitoring and control are essential in many industrial processes to prevent over-filling or under-filling, as well as to provide a reliable "empty" notification. Accurate level measurement and switching ensures continuous plant operation without interruptions that could lead to quality issues, safety problems, regulatory issues and higher costs.
The FLT Switch provides dependable liquid point level and interface sensing in liquid, gas or foam. It's ideal for heavy duty environments (FLT93S) and small process connections requiring a fast, responsive switch (FLT93F). Applications include wet/dry detection, sump level detection, high/low level alarm and control, interface control in separation vessels, foam and sediment interface control, and agitation detection.
The FLT93S Switch can identify the interface between any type of media including foam, emulsion layers, liquids and slurries. The FLT93S Switch's dual switch point option allows one instrument to control two different product interfaces. Two or more switches are used to control product discharge and intake at specified points.
Level/interface accuracy for the FLT93 Model S is ±0.25 inch (±6.4 mm), and for the Model F is ±0.1 inch (± 2.5 mm). Repeatability for the Model S is ±0.125 inch (± 3.2 mm) and for Model F ±0.05 inch (± 1.3 mm).
The FLT Switch is hydrostatically proof pressure tested to 3500 psig [240 bar (g)] at 70°F [21°C]. Derated with temperature, the maximum operation service recommended is 2350 psig [162 bar (g)] at 500°F [260°C]. Higher pressure ratings are available with special construction and test certification.
A wide selection of standard and custom process connections can be provided with the FLT Switch. The electronic control circuit can be integrally-mounted with the sensing element, or it can be located in a remote location. The standard enclosure is made from a coated aluminum alloy. It is suitable for use in ATEX locations and is rated for NEMA Type 4X (IP66) environments. Stainless steel enclosures also are available.