Science of Process Gas Flow Metering Advanced,
Featured Product from Fluid Components Intl. (FCI)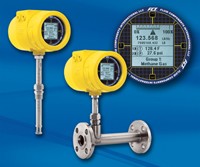 ST100A is high performance thermal dispersion technology gas flow meter that combines the most feature- and function- rich electronics, and FCI innovations such as Adaptive Sensing Technology™ (AST), with the industry's most advanced flow sensors to achieve a truly state-of-the-science flow metering solution for industrial processes and plant applications.
The ST100A series transmitter is unsurpassed in meeting your current and future need for outputs, process information and communications. Whether your output needs are traditional 4-20 mA analog, frequency/pulse, or advanced digital bus communications such as HART, Foundation fieldbus, PROFIBUS, or Modbus, ST100A has you covered. ST100A's bus communications have been certified by and are registered devices with HART and Foundation fieldbus. In addition, Emerson Process (Delta V), Yokogawa and ABB (800xA) (see page 6) have tested and verified ST100A Series' Foundation Fieldbus interoperability with their systems.