E-Series - Explosion Proof Flow Computers
Featured Product from Fluidwell bv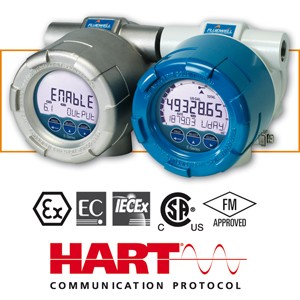 Explosion proof to the max!
The E-series is distinguished by its high quality manufacturing and its functionality driven European design. It is more than fulfilling the rules for explosion proof design, it is about safety during daily operation. Often, the environment is much tougher than the explosion proof requirements demand. Immediate danger arises in case of a broken enclosure or a poorly made flame path. Ruggedness and reliability is what Fluidwell stands for and it is now available in a comprehensive well designed and purpose driven explosion proof flow rate indicator, monitor and totalizer. The E-Series is always your first and safest choice for explosion proof applications.
Fluidwell is known worldwide for their rugged products. Fluidwell has raised the E-Series to the next level! Choose from two enclosures: a solid die cast aluminum or a high grade stainless steel 316L enclosure. The stainless steel enclosure is suitable for extremely salty atmospheres (offshore industries). The die cast aluminum enclosure is coated with two industrial components. It is better suitable for outdoor and chemical plant environments than the typical powder coated alternatives. Both IP66/IP67, NEMA 4X/7/8/9 enclosures have robust entry threads, e.g. a 1" NPT for direct flowmeter mounting.

Extremely user-friendly
The E-Series has a very easy-to-operate keypad: Programming and operations is performed through the glass window without the need to remove the cover! Simple operation at any time, without a work permit to open the enclosure or for a plant shut down. This valuable function saves time, cost and hassle.
The E-Series is extremely user-friendly, just as all other Fluidwell products. No confusing menus or complicated hardware changes or actions, but a simple, logical menu-driven structure. Each setting is clearly indicated with an alphanumerical description, without confusing abbreviations and difficult codes. Once familiar with a Fluidwell product, you'll be able to program ALL models in ALL series, even without the use of manuals: Know one, know them all!
Datalogging was never this simple. You can navigate through the 2824 logs using the screen or get access via Modbus communication. Even more simple is the USB communication via the side entry. Under safe conditions, the plug can be removed for an easy plug-and-play USB connection for datalog extraction. Datalogging is available on the E110 and E112 flow rate indicators / totalizers.
Even more user-friendly is the remote configuration via a PC using the free downloadable E-Series Configuration Software. Just connect the E-Series to your PC with the special Configuration Cable or use the Modbus or USB communication link.

Your Advantages
Save time and gain flexibility with the easy-to-operate through glass keypad: no need to remove the front cover or to schedule a work permit or plant shutdown.
Your crew is in control with our highly praised "know one, know them all" configuration structure, saving time, cost and aggravation.
Easy installation with the spacious chamber and plug & play connectors.
Cost saving with an easy to install 1" NPT thread for direct flow meter mounting.
Durable high grade stainless steel 316L Ex d enclosure for extremely salty atmospheres (offshore).
Key information at a glance as the display shows flow rate, total, measuring units and a flow rate indicating speedometer.

Hazardous area information
The E-Series have been certified according ATEX, IECEx, FM and CSA C-US with an ambient temperature of -40°C to +70°C (-40°F to +158°F).
The ATEX markings are:
Gas: Ex logo II 2 G Ex d IIC T6 Gb
Dust: Ex logo II 2 D Ex tb IIIC T85°C Db
The IECEx markings are:
Gas: Ex d IIC T6 Gb
Dust: Ex tb IIIC T85°C Db
The FM and CSA C-US markings are:
XP (Explosion-proof): Class I, Division 1, Grps A, B, C, D.
DIP (Dust-Ignition-proof): Class II/III, Division 1, Groups E, F and G. Class I, Zone 1, AEx d IIc T6 Gb, Zone 21, AEx tb IIIC T85°C Db.