Level sensor for measuring without product contact
Featured Product from Fluidwell bv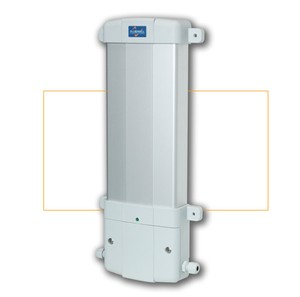 The Triflex is a level transmitter which measures the level from the outside of a non-metallic tank without physical contact with the product.
The Triflex family consists of:
Both are available in a 30cm measuring length.
The Triflex LNI200 is now also available with a double measuring length of 60cm.

The Triflex is specially designed for non-intrusive level applications of bulk solid products. It is the perfect fit for situations where it is undesirable or impossible to make an entry into a plastic or glass storage vessel or for aggressive or contamination sensitive products.So for applications where product contact has to be avoided (e.g. out of health reasons with pharmaceutical pills or with acids), where placement of a sensor inside a tank is not possible due to the construction of the tank (too small / complicated) or where the environment inside the tank is highly abrasive, the Triflex family offers your solution.
Triflex benefits
Measure through glass or plastic tanks without risk of contamination.
Perfect solution for small or complicated tank shapes and/or low dielectric, contamination sensitive or aggressive products.
Insensitive to changing process conditions stimulating higher output.
Easy access and much faster maintenance without interrupting your process and without risks of contamination.
Save costs on additives, installation and maintenance.
Insensitive to product accumulation on the walls.