N414 Batch Controller with NTEP Certification
Featured Product from Fluidwell bv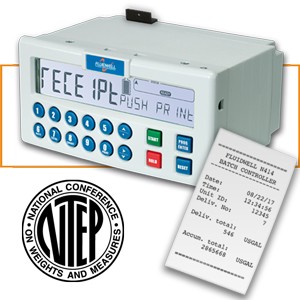 Fluidwell launches the legal-for-trade N414 Batch Controller with NTEP Certification. The N414 batch controller combines accurate batching and user-friendly operation. It is certified by NTEP for wholesale and custody transfer applications in the United States of America.

Easy ticket printing
"The receipt printing functionality is very useful for situations where you need a locally printed ticket as evidence of the delivered quantity like tank and truck (un)loading applications.", says David Umana, Vice President of Fluidwell Inc. in Oxford, MA. "End-of-batch tickets and (duplicate) reprints can easily be printed automatically or on demand. Even in the unexpected event of an uncompleted batch, it is possible to print a ticket."

Powerful and user-friendly
The N414 is a versatile and powerful batch controller, with a printer output, 2 field replaceable, heavy duty relays and three configurable transistor outputs. Relay 1 is fixed as main batch control output. Relay 2 and the transistor outputs can be configured as pump control with time delays, 2-stage batch control, alarm or pulse outputs. This makes the N414 a powerful and versatile batch or delivery controller.
The combination of the user-friendly numerical keypad with the compact, clear display, make this N414 very attractive to our customers. The crystal clear LCD display, provides multiple batch control data simultaneously at a glance, including a graphical indication of the vessel, the batch process and the relay status. The bright backlight is available as standard, ensuring perfect readings in all lighting conditions.

Save time, hassle and cost
Fluidwell users all around the world appreciate the simple, intuitive menu structure of the various product series. It saves significant time and cost in installation and programming. It is really easy to start, stop, pause or terminate a batch or set a new preset value, especially with the numerical keypad. "Those familiar with a Fluidwell product, can therefore also program and install the N414 without the use of a manual or hiring technical experts. Know one, know them all.", David adds.

Your advantages
Guaranteed accuracy in any conditions, certified by NTEP as an approved Weights & Measures device.
Easy end-of-batch ticket printing in any situation.
Save time and cost with the easy to operate numerical keypad.
Your crew is in control with our highly praised "know one, know them all" configuration structure, saving time, cost and aggravation.
Key information at a glance as the display simultaneously shows actual value, preset value, batch process indication, switch point indication and measuring units.
Easy installation with the rugged aluminum DIN-size panel mount enclosure.