SMART Level measurement
Featured Product from Fluidwell bv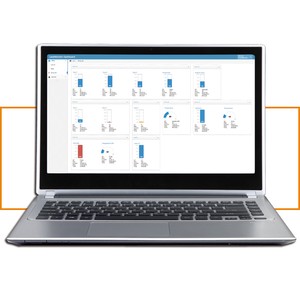 Increase your service level, optimize your processes from anyplace, anywhere, anytime!
With Smart Services we go further then just remote monitoring. Apart from the measured value, it is now possible to gain full access to the sensor data from anyplace, anywhere, anytime for improving and optimizing your complete process. Even the echo curve which is the sensors core information can be visualized. Potential failure due to process conditions like foaming, swirling and level changes can be explained and corrected, which results in a reliable and stabilized process.
Our Smart Services are the next level of Smart Level Measurement. It consists of the M853 Data Acquisition and Communication Module and the Guidense TDR100 guided level radar for continuous level measurement in liquids and solids. The Guidense TDR200-SMART has no conventional analog output but a Smart bidirectional digital communication output to the ProcessMonitor M844. This stand alone combination is independent from local infra structures, using GSM/GPRS communications and solar or battery power options. The solar panel of the M844 can even power up to 6 Guidense TDR200-SMART level sensors!

Applications
These solar powered, combined field devices are extremely suitable for off-grid and hard to reach locations.
Suitable in almost every liquid and solids - independent of changing process conditions, such as density, conductivity, temperature, pressure, vapour, turbulence, low dielectric constant or low reflectivity.
The Guidense has almost no installation restrictions: small tanks, tall and narrow nozzles or difficult tank geometries or close to interfering structures.
Features
Entirely autonomous monitoring and datalogging using GSM/GPRS communications and solar panel, battery or AC/DC power options.
Full control to easily read, modify, store and analyse all process parameters from anyplace, anywhere, anytime.
Easy and time saving remote configuration through Smart bidirectional digital communication.
Full compliance with the ProcessMonitor web-portal or ProcessView software for data history, graphic visualization and/or alarming.
Data logging by 2GB micro-SD card for > 10 milion data entries.
Resistant to harsh environments as Guidense TDR200-SMART is IP68/NEMA6P and the M844 is IP67 / NEMA4X.
110 - 230V AC mains and reverse polarity protected 8 - 30V DC power supply, battery or solar powered.
3 types: Single rod probe, Wire rope probe and Coaxial probe.
Very easy to install due to plug-and-play connectors.