User-friendly Batch Controllers
Featured Product from Fluidwell bv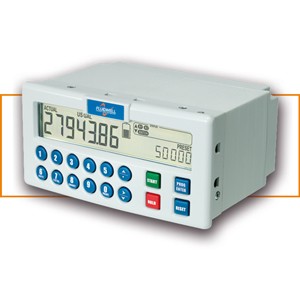 with numerical keypad!
These DIN panel mount batch controllers with numerical keypad are the result of combining our knowledge of batch control operations and our customer focus on operators and users. As a result, the N-Series has been developed as a batch controller, focussed on your convenience.
The N-Series distinguishes itself from other batch controllers by its very easy to use numerical keypad. Selecting and entering multiple preset values with the easy to press keys is astonishingly simple. The display is designed for batch processes: at a glance, the operator is aware of the indicated switch points and the actual state of the process. For your convenience the preset and the actual value with their engineering units are displayed simultaneously. It's just the simplest versatile batch controller there is! Choose N and save on installation and operation / programming cost, time and hassle.
Easy to use and simple to install
The N-Series use the highly appreciated configuration structure of our F-Series and D-Series. Each setting is clearly indicated with an alphanumerical description, eliminating confusing abbreviations. Once familiar with an N-series product, you will be able to program all models in all series without a manual. For example: the configuration menu of the (intrinsically safe) F-Series batch controllers operate almost identical to an N410! In other words: Know one, know them all. Operation and configuration is done via the easy-to-operate numerical keypad.
The unique LCD display provides multiple batch control data at a glance. The main information like actual value, flow rate or batched total are displayed with 7 large digits (14mm, 0.56"). The preset value and units of measure are displayed with 10 smaller segments (8mm, 0.3"). A graphical indication of the batch process and relay status are displayed simultaneously. On-screen engineering units are easily configured in the configuration menu. All values are saved in EEPROM memory. The N410 is standard provided with a bright backlight, which ensures good readings during day and night and it can be adjusted in 6 steps from 0 to 100%.
The N-Series is your perfect solution for smaller and low cost panels, as it has a limited depth clearance of only a four inches! Why bother with other panel controllers, when you can save considerably on installation and panel requirement costs with the N-series? Be smart, buy N!
All values, unit settings and functions have been classified in various groups and can be security access code protected. There is a special external input with a keypad lock functionality.
Your advantage
Save time and cost with the easy to operate numerical keypad.
Your crew is in control with our highly praised "know one, know them all" configuration structure, saving time, cost and aggravation.
Key information at a glance as the display simultaneously shows actual value, preset value, batch process indication, switch point indication and measuring units.
Easy installation with the rugged aluminum DIN-size panel mount enclosure with only four inches depth clearance for smaller and low cost panels.
The N-Series doesn't require any special maintenance, due to our lithium battery and special power saving options, the battery lifetime is up to 5 years. It's fit and forget!