Containment Cells
Product Announcement from Fluitron, Inc.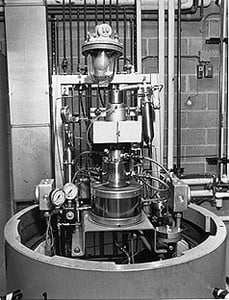 FOR SAFELY OPERATING HIGH PRESSURE REACTORS
Containment cells are a unique approach to providing a safer means of operating small, bench scale, high pressure reactors which might be dangerous. The idea of fully containing a hazardous reaction vessel and its contents upon failure, rather than exhausting it to the outside via frangible walls, ducts, etc. is new. It offers the small laboratory, institution or university the opportunity of now safely conducting high pressure research in close or confined quarters which was not possible before due to the inability of safely handling the resulting shock waves and missiles.
SPECIFICATIONS
MODEL CC29X60X1K
SIZE 29" I.D.. X 60" I.L.
DESIGN ENERGY LEVEL: ¾ lb. TNT
FEATURES
SAFE
PORTABLE
EXPLOSION & MISSILE TESTED
QUICK & EASY OPENING
HERTETICALLY SEALED
CONTROL OF INTERNAL ATMOSPHERE
SAFETY INTERLOCK ON CLOSURE
ONE PERSON OPERABILITY
VIEW PORT(S)
PROCESS & SERVICE FEEDTHRUS
---