Custom Process Reactors
Product Announcement from Fluitron, Inc.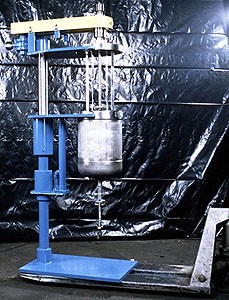 Fluitron offers a complete line of stirred pressure reactors for research, process development and pilot plant applications. Laboratory units to two (2) gallons, as well as pilot reactors to 250 gallons are available in a variety of pressures and materials of construction.
General REACTOR features include:
Capacities from 1-liter to 100 gallons, each with a variety of internal dimensions from which to choose
Materials of construction including stainless steel and other corrosion-resistant alloys
"Low Pressure" reactors from atmospheric to 2,000 psig
"High Pressure" reactors to 6,000 psig and above
Heating by Electric or Heat Transfer Jacket
Magnetic Drive or Mechanical Seals
Standard or custom impeller blades
Electric, air, or hydraulic motors
Bench, floor, or hydraulic/air lift stands
Many options/accessories, including sight glasses, torque sensors, cooling coils, ASME code stamps, and more.
---