Explosion Proof Pumps - High Pressure Syringe Pump
Product Announcement from Fluitron, Inc.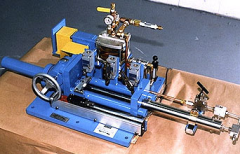 The SP Series high-pressure syringe pumps are motor-driven, positive displacement pumps designed specifically for the precise injection of catalysts and other fluids into high-pressure systems.

The design features a slow-moving plunger moving through a relatively large "barrel". Controlling the speed of the motor accurately controls the plunger speed and therefore, the flow rate. Since the pump does not reciprocate, there is a continuous, pulse less flow.

Another advantage of the syringe pump is that there are no check valves to malfunction, "miss a beat", or respond differently to various flow conditions or fluid properties.

The SP series syringe pumps are available in various flow ranges, volumes, and pressures. For applications requiring continuous, pulseless flow over long periods of time, two pumps can be configured in a duplex arrangement.
---