Laboratory & Pilot Plant REACTORS & SYSTEMS
Product Announcement from Fluitron, Inc.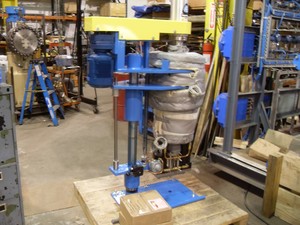 FOR RESEARCH & PROCESS DEVELOPMENT Fluitron offers a wide variety of Laboratory & Pilot Plant REACTORS & SYSTEMS for almost any chemical reaction application. General REACTOR features include: Capacities from 1-liter to 100 gallons, each with a variety of internal dimensions from which to choose Materials of construction including stainless steel and other corrosion-resistant alloys "Low Pressure" reactors from atmospheric to 2,000 psig "High Pressure" reactors to 6,000 psig and above Heating by Electric or Heat Transfer Jacket Magnetic Drive or Mechanical Seals Standard or custom impeller blades Electric, air, or hydraulic motors Bench, floor, or hydraulic/air lift stands Many options/accessories, including sight glasses, torque sensors, cooling coils, ASME code stamps, and more. Complete Reactors Systems: All Fluitron REACTORS can be equipped with auxiliary equipment to complete the reactor package, including: Heat Transfer Systems (Oil, Water, or Steam) Condensers and Heat Exchangers Gas Feed Systems Liquid Reservoirs with Weigh Scales and/or Mass Flowmeters Feed Pumps Flow, Pressure & Temperature Controls PLC/Computer Control Data Acquisition Series 5000 lab reactors View other products offered by Fluitron.About Fluitron, Inc:Fluitron, Inc. believes that the skill and energy of the people involved in a company determines the success of the company. The people at Fluitron are devoted to providing new and better-engineered products for the chemical and related industries and to serve their customers with integrity. They do not aspire to build the biggest company, but aspire to be the best company to buy from, to work for, to sell to, and to live near. Please click on the links to the right for more information or contact Fluitron today!
---