Compressors by Fluitron
Product Announcement from Fluitron, Inc.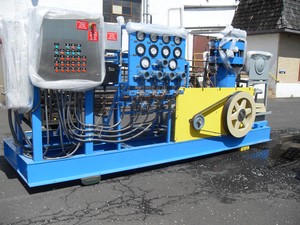 Fluitron offers compressors that operate with oil or other contaminants in contact with the process. These are offered primarily on a custom-basis. Whether your requirement is for a special material of construction, e.g. stainless steel or other corrosion-resistant alloy, an unusually high or low operating temperature, or any other special requirement not offered by conventional piston machines, chances are that we can offer a suitable compressor.
Typical features include:
electric motor with belt drive.
multipled piston rings
hardened/honed cylinder for long life
View other products offered by Fluitron.
About Fluitron, Inc:
Fluitron, Inc. believes that the skill and energy of the people involved in a company determines the success of the company. The people at Fluitron are devoted to providing new and better-engineered products for the chemical and related industries and to serve their customers with integrity. They do not aspire to build the biggest company, but aspire to be the best company to buy from, to work for, to sell to, and to live near.
Please click on the links to the right for more information or contact Fluitron today!
---