Pressure Vessels
Product Announcement from Fluitron, Inc.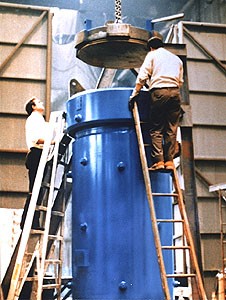 Fluitron offers a wide range of laboratory, pilot, and some production scale pressure vessels for use as reactors, accumulators, autoclaves, hydrostatic test tanks, storage vessels, process vessels, etc.
Vessels are designed and manufactured in accordance with ASME Section VIII, Division 1 or 2 as applicable.
LABORATORY vessels to 10 gallons.
PILOT/PRODUCTION vessels to 500 gallons.
WELDED CONSTRUCTION vessels.
FORGED CONSTRUCTION vessels.
Many closure styles are available, including:
Welded tanks
Bolted, for pressures to 5,000 psi
Threaded, for pressures to 150,000 psi
Clamped, for pressures to 500 psi
Quick-Opening breech lock
Quick-Opening pin
Hinged Doors
CUSTOMIZATION:
Most vessels are customized to meet the specific requirements of the application. Vessel features can include:
Horizontal or Vertical Configuration
Sight Glasses
Custom Openings
Heating/Cooling System
Instrumentation/Controls
View other products offered by Fluitron.
About Fluitron, Inc:
Fluitron, Inc. believes that the skill and energy of the people involved in a company determines the success of the company. The people at Fluitron are devoted to providing new and better-engineered products for the chemical and related industries and to serve their customers with integrity. They do not aspire to build the biggest company, but aspire to be the best company to buy from, to work for, to sell to, and to live near.
Please click on the links to the right for more information or contact Fluitron today!
---