Reactors for Research and Process Development
Product Announcement from Fluitron, Inc.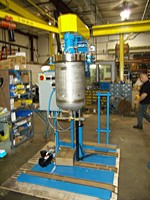 Fluitron Offers a wide variety of Laboratory and Pilot Plant REACTORS AND SYSTEMS for almost any chemical reaction application. Our reactors come in a variety of sizes, ranging from 300cc up to 100 gallons, can reach working pressures of up to 5000 psig and are capable of operating under full vacuum conditions. We also offer a variety of drive units and impellers to meet a wide range of process requirements. With parameters such as fluid viscosity, density and agitator speed, our engineers can work with you in sizing and specifying an agitation system.
---