SERIES 5000 standard laboratory pressure reactors
Product Announcement from Fluitron, Inc.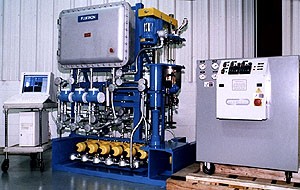 We are now pleased to offer our new series 5000 standard laboratory reactors. The series 5000 reactors provide an economical means of performing low, moderate, or high pressure reactor studies, while still maintaining the high quality and versatility offered by our custom reactors.
Features of the series 5000 reactors include:
Capacities from 300 cc to 5-gallons
Pressures to 5,000 psi
Temperatures to 400oC
Leak-free MAGNETIC DRIVE
Bench, floor, & hydraulic stand models
Various Materials of Construction
Specifications:
View other products offered by Fluitron.
About Fluitron, Inc:
Fluitron, Inc. believes that the skill and energy of the people involved in a company determines the success of the company. The people at Fluitron are devoted to providing new and better-engineered products for the chemical and related industries and to serve their customers with integrity. They do not aspire to build the biggest company, but aspire to be the best company to buy from, to work for, to sell to, and to live near.
Please click on the links to the right for more information or contact Fluitron today!
---