Supercritical Fluid Extraction
Product Announcement from Fluitron, Inc.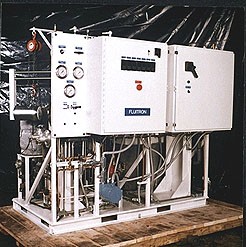 Fluitron offers a variety of research, pilot, and production SFE systems, which utilize supercritical carbon dioxide as the solvent. (Other solvents available). Systems are complete, packaged systems, and normally include:
Extraction Chamber
Pressurizing Pump/Compressor
Pressure Control
CO2 Flow Control & Totalization
Separator Vessel
All Stainless Steel Materials
SFE systems are normally rated to 6,000 psi @ 100oC. However, higher pressures and temperatures are available. Fluitron has manufactured SFE systems for pressures as high as 30,000 psi.
CUSTOMIZATION
Most Fluitron systems are customized to some degree. All systems include the basic component such as compressor, extractor, separator, and pressure/temperature/flow controls. However, any system can include features such as:
Multiple Extractors
CO2 Recycle
PLC Control
Computer Supervisory Station
Data Acquisition
TOTAL CAPABILITY
Fluitron has the resources to design, manufacture, assemble, and completely test systems in our facility prior to shipment. Our capabilities include: I
In-House Engineering
In-House Machine Shop
In-House ASME Code Weld Shop
Complete System Intergration
Hazardous or Non Hazardous Electrical classifications
Wash down
Class 1 Division 1
Class 1 Division 2
UL
CSA
STATE OF THE ART CONTROL
Fluitron has the ability to provide any level of control, to meet the customers requirements. Our experience ranges from manual control to fully automated process systems operating in production environments.
Manual, Microprocessor, PLC, or PC control
Complete System integration
In-house PLC Programming
In house operating software programming
Computer interface
Data Acquisition
Pressure/temperature/flow/level control
---