Syringe Pumps
Product Announcement from Fluitron, Inc.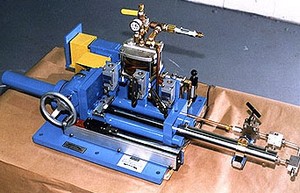 The syringe pump is a positive displacement motor driven pump designed specifically for the precise injection of liquids into high pressure systems. The pumping action is accomplished by a plunger moving slowly through a relatively large pump barrel. For applications requiring small injected volumes or short pumping durations, the pump barrel would be large enough to dispense the required volume before the plunger reaches the end of its stroke.
For continuous flow over long periods of time, duplex models with automatic switchover can be provided.
GENERAL SPECIFICATIONS:
Models from 500 to 150,000 psi
Volumes from 20 cc to 1-liter
Flows from 1 cc/hr to 10,000 cc/hr
Various materials of construction to meet the corrosive nature of the fluid being pumped
Control options including manual, microprocessor, PLC or computer controls
PULSELESS FLOW:
A major advantage of the Fluitron syringe pump is that it provides pulseless flow. Since the pump does not reciprocate, it does not produce any pulses. In addition, there are no check valves to malfunction, "miss a beat", or respond differently to varying flow conditions.
View other products offered by Fluitron.
About Fluitron, Inc:
Fluitron, Inc. believes that the skill and energy of the people involved in a company determines the success of the company. The people at Fluitron are devoted to providing new and better-engineered products for the chemical and related industries and to serve their customers with integrity. They do not aspire to build the biggest company, but aspire to be the best company to buy from, to work for, to sell to, and to live near.
Please click on the links to the right for more information or contact Fluitron today!
---