Flygt Nonsubmersible A-C Series Pumps
Product Announcement from Flygt, a Xylem brand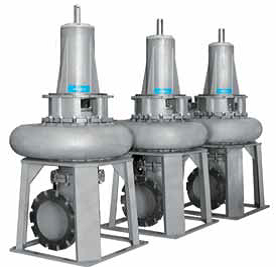 We offer an outstanding selection of dry-pit pumps. In fact, our Flygt A-C Series pumps set extraordinary standards for quality and performance in wastewater treatment plants everywhere.
What makes our A-C Series pumps so special? Its advantages start with the exclusive EQUISEAL™. It seals dynamically by opposing discharge pressure, thus eliminating the need for costly mechanical seals. EQUISEAL means a seal flush isn't required - so users enjoy big savings on water and on re-treatment costs, which are rendered unnecessary.
Also, no metal-to-metal rubbing parts and no critical operating clearances mean a significantly longer product life. Count on Flygt A-C Series pumps for ongoing performance that's leak-free. At all times, you can trust Flygt A-C Series pumps to provide significant energy savings in wastewater treatment plants that need the finest solutions for RAS, WAS, filtrate, backwash, digester feed, circulation and much more. Of course, excellence in performance is just one reason why Flygt A-C Series pumps are the smart choice for municipalities everywhere. Another is your assurance of receiving the finest support in the industry. Our sales and service centers stretch from coast to coast, and they're always ready to provide the help you need whenever you need it.
We also assemble high quality, energy efficient "Custom" products such as Large Split Case, Axial Flow Column and Centrifugal pumps for applications such as Flood Control and Power Plant Cooling.
---