High Transmission Glan Laser Polarizers
Featured Product from Foctek Photonics, Inc.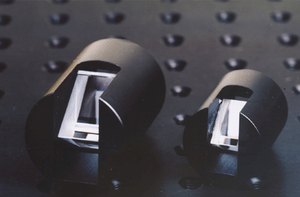 FOCtek specially designed a high transmission Glan Laser Polarizer for online_ordering which requires high transmission. The specially designed polarizer is based on the Brewster Cut crystal, which can improve the transmission from normally >85% to 95%. This polarizer can be made from both Calcite and YVO4.
Features:
Air-spaced
All Brewster's angle Cutting.
Mounted with escape windows.
High Polarization purity.
Suitable for high power online_orderings.
High transmission.
Brewster angle input.
Call for OEM quantity pricing and Custom Design Polarizer.
A wide variety of custom design High Transmission Glan Laser Polarizer are available upon request
Custom Size Mount is available upon request
AR coated Polarizer is available upon request