Cement Block Plant Brakes it to Make it Better
Featured Product from Force Control Industries, Inc.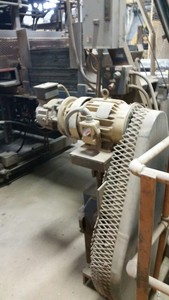 Oil Shear Brakes Keep Concrete Block Plant Operating with No Downtime for Maintenance, Adjustment or Repairs
(FAIRFIELD, Ohio) – Concrete blocks are tough, durable, and are often used in harsh environments. And the conditions within the plant making the blocks can be hot, dusty, dirty, and gritty - not an ideal environment for longevity of components. Dry brakes on their Besco block making equipment were a prime case in point, as the Warner EUM-180-20MBFB brakes needed regular attention, ranging from a 20-minute adjustment to a 4-hour repair. Despite the constant maintenance the service life was still short-lived. Replacing these dry brakes with Magna Shear MSB4 proved to be a good decision as 11 years later the original brake is still in service - and needs no adjustment.
Skip Hoist Skips The Downtime and the Delay
Another area where dry brakes were problematic was the 5 HP skip hoist drive on the Fleming line. This is where color mixtures are added to each block. A Warner dry brake was installed here, and though the service life was reasonable at 3-years, as the brake pads wore, they needed adjustment to keep them within tolerance. Worse yet, worn brake pads caused a delay in engagement - which meant a delay in changing colors. The end result was a monochromatic looking block that was not aesthetically pleasing to customers. Replacing this dry brake with a MagnaShear MSB4 eliminated the delay in response time, yielding blocks with an aesthetically pleasing mixture of colors. Because MagnaShear brakes employ Oil Shear technology, which transmits torque between lubricated surfaces there is no wear - and hence no need for adjustment. The service life for the new style brakes was at 11 years and counting -- nearly 4-times that of their dry predecessors.
"We bought the first MagnaShear in 2006 and replaced others every couple of years. They are still going strong," said who oversees production at St. Vrain Block.
Read the whole story here https://bit.ly/3wG3c7t .