Clutches and Brakes for Heavy Movable Structures
Featured Product from Force Control Industries, Inc.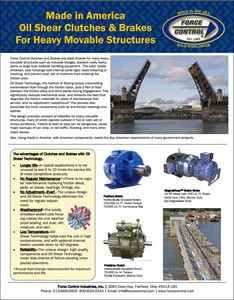 Force Control Clutches and Brakes are ideal choices for many heavy movable structures such as movable bridges, stadium roofs, locks, dams or large bulk material handling equipment. The solid, totally enclosed, cast housings hold internal parts rigid, resist breaking or cracking, and prevent dust, dirt or moisture from entering the friction area.
Oil Shear Technology, the method of flowing torque transmitting transmission fluid through the friction stack, puts a film of fluid between the friction discs and drive plates during engagement. This significantly reduces mechanical wear, and removes the heat that degrades the friction materials for years of maintenance free service, and no adjustment needed-ever! This process also lubricates the inner components such as anti-friction bearings and splines.
This design provides unheard of reliability for heavy movable structures, many of which operate outdoor in hot or cold, wet or snowy conditions. Failure to start or stop can be dangerous, cause major backups of car, ship, or rail traffic, flooding, and many other major issues.
Force Control standby drives including the motor, clutch/brake and reducer is the perfect package for stand by applications. The totally enclosed, transmission fluid filled clutch brake will always work, even after sitting for many months or years. No internal corrosion, corroded parts, discs or drums to deal with.
Also, being made in America, with American components, meets the Buy American requirements of many government projects.