It's just a holding brake. Really?
Featured Product from Force Control Industries, Inc.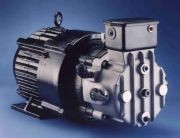 In referring to motor brakes how often we hear "it is just a holding brake". "The brake doesn't come on until the drive is stopped". We ask "why do you need to buy parts, adjust the brake, etc."?
There are many reasons dry friction motor brake fail or need adjusted even though they are theoretically just holding. Timing is one. Does the brake actually come on just before the drive stops? Sometimes the holding brake is also used as an e-stop brake. In some cases it is not even sized for this purpose.
And then the brake has to actuate every time it is released or engaged. This means that the coil and its associated linkage and other moving parts connected to the actuating coil are loaded and unloaded. This can cause metal fatigue and failure.
This does not include damage by the environment such as moisture, dirt, dust, slag, heat, or cold, causing wear and corrosion that will cause the parts to fail or hang up.
An ideal solution for a motor brake, whether it is just a holding brake, or a stopping brake, is a MagnaShear motor brake featuring Oil Shear Technology. Oil Shear Technology is a system of transmission fluid flowing through the inside of the brake, lubricating all moving components, as well as removing heat from the engagement area. The direct acting coil does not use linkage or levers, but acts directly on the thrust plate.
Since this is brake contains transmission fluid it is totally sealed, eliminating any issues from the environment.
If you need a holding brake, or a dynamic stopping brake the MagnaShear oil shear motor brake will provide years of heavy duty service with no regular maintenance and no adjustment – ever!
Many sizes and options provide the ideal MagnaShear motor brake for mining, marine, steel, food processing, lumber, fiberglass, automotive, foundries, and much more.
Talk to a Force Control Industries application engineer to select the perfect brake for your application.