Made in America Mooring & Anchor Winch Brakes
Featured Product from Force Control Industries, Inc.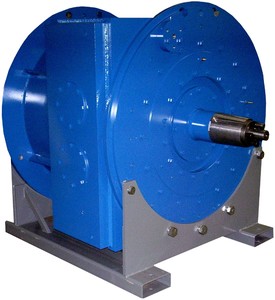 Made in America Mooring and Anchor Winch Brakes
Mooring and anchor winches require a different style of brake. They require a dynamic brake as well as a static brake. Dry friction brakes are good static brakes, but have many shortcomings when used dynamically.
In most cases, as the line pays out, the tension on the line must be maintained. This is done by controlling the torque on the brake and letting the brake slip at a controlled rate. Because slipping a brake creates heat it is critical that the brake be properly cooled. This is where Oil Shear Technology comes into play.
Oil Shear Technology – the term used with Force Control Industries clutches and brakes - offers many advantages. Oil shear Technology is a system of combining friction discs and plates with transmission fluid which flows through the friction stack and is cooled to remove the heat of engagement. The transmission fluid is designed to transmit torque when the fluid is in shear. By compressing the friction stack with the fluid between the discs and plates torque is transmitted through the fluid in shear. The more pressure applied to the stack the higher the torque transmitted. This allows torque control by adjusting the pressure on the stack.
In addition, the fluid flowing through the friction stack absorbs the heat of engagement and moves it away to a cooling system.
The cooling system consists of a fluid reservoir, a cooled fluid pump, heat exchangers, filters, actuation pump, and cooling system controls. By cooling the fluid in a separate Forced Lube Cooling Unit the brake remains compact and the cooling can be located in a convenient area.
The benefits of using a brake with Oil Shear Technology is superior life without regular maintenance, smooth torque control down to 0 RPM, quick response, and safer operation. They also are totally enclosed impervious to dirt, dust, and moisture. No more rusty, corroded brake surfaces.
An additional benefit is they are all made in America.