MagnaShear Electric Release Spring Set Motor Brake
Featured Product from Force Control Industries, Inc.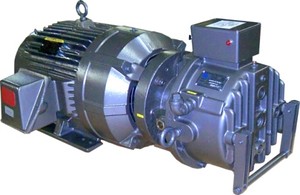 The Ideal Upgrade for Winches, Cranes, Loaders, Trippers, and Palletizers
Designed with Oil Shear Technology the MagnaShear Motor Brakes typically mount to the back of a brake motor. They are designed to be a stopping brake, not just a holding brake.
Oil Shear Technology allows the brake to dynamically slip to a stop without wearing friction material and the fluid circulating through the brake friction stack moves the heat of engagement to the housing to be cooled. This allows the brake to operate at a constant torque for many years without adjustment, or maintenance.
They can survive the harsh environments of mining, manufacturing, material handling as well as packaging and food processing with minimal maintenance and no adjustment. The totally enclosed rugged housings keep dirt and moisture out while reducing noise and extracting heat.
Dry friction brakes are typically designed as holding brakes. Using them for dynamic stopping wears friction material away causing constant adjustment and frequent replacement of discs, pads, or shoes.
"Oil Shear Technology," perfected over 50 years by Force Control Industries, provides the brake with up to 10 times the normal life of dry friction units with minimal maintenance and "No Adjustment - Ever".
Features of a MagnaShear Brake
Spring set electrically released - 115 VAC through pulse width modulation for reduced heat and energy cost. Simple transformers are used for alternate voltages. Some DC actuation is available.
Direct acting coil eliminates small linkage parts to corrode, hang up, or fail.
Multiple disc design for high thermal capacity and low rotating inertia
Oil Shear Technology for smooth cushioned stops, minimal wear, no adjustment required, superior heat dissipation and consistent accurate stopping
Heavy duty totally enclosed sealed housing for protection in severe dusty, dirty, or wet applications.
Quick mount clamped split quill for superior 360º shaft connection minimizing key and keyway problems.
Optional wash-down and marine duty designs
Custom flange designs for IEC, reducer mounting, or old crane retrofits.
Manual release, optional release indicator switch, heater, encoder shaft,
Quick mount design installs in one piece. No assembling parts on the motor, small parts to drop, covers to remove for adjustment.
Up to 10 times longer life
Electric Release, Spring Set
Minimal Maintenance Cost
No Adjustment - Ever!
New "Quick Mount" Design
Up to 80% Lower Inertia
Oil Shear Technology - No Adjustment No Maintenance
MagnaShear Brake Typical Applications