New - Severe Duty Brake Motors
Featured Product from Force Control Industries, Inc.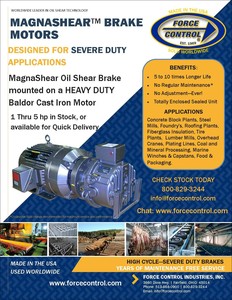 Force Control Industries introduces a line of severe duty brake motors. Standard units 1 to 5 horsepower up to 100 Lb. Ft. brake torque are available for quick delivery, and often in stock. Larger unites 7 ½ horsepower up to 50 horsepower with brake torque up to 900 Lb. Ft. is based on motor delivery schedules.
These brake motors consist of a Baldor severe duty inverter rated motor with a Force Control MagnaShear Oil Shear motor brake designed for harsh industrial applications. These assemblies are designed for harsh dirty, wet, heavy load, high cycle applications such as found in mining, steel, foundries, lumber mills, marine, heavy manufacturing, food processing, and much more.
The premium construction motors include features designed to protect against contamination, moisture, vibration and demanding duty cycles. The MagnaShear brakes utilizing Oil Shear Technology will last for years nearly maintenance free, and no adjustment – ever!
Replace standard motor mounted dry friction brakes, drum brakes, thruster brakes, and caliper brakes used in applications such as conveyors, overhead cranes, steel mill motors, winches, hoists, feeders, palletizers, elevators, and more.
Take a look at the MagnaShear brakes at www.forcecontrol.com, and download the MagnaShear Brake Motor flyer at https://www.forcecontrol.com/images/downloads/flyers/MagnaShear_Severe_Duty_Brake_Motors_100920_Web.pdf.