Oil Shear Brakes Preventing Downtime
Featured Product from Force Control Industries, Inc.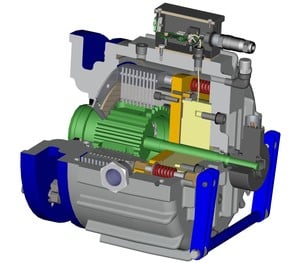 Oil Shear Crane Brakes Eliminate Maintenance and Adjustment to Boost Productivity at Manufacturing Plant
(Fairfield, Ohio) – A major manufacturer of telecommunications buildings relies on cranes to keep production flowing in their assembly-line like factory. Apparently their dry-type Stearns and Dings crane brakes didn't get the message, as they required substantial maintenance or adjustment - which brought production to a halt. Often production was down for hours before the problem was discovered - creating a huge backlash across the production schedule. Since the work was done at height, there were safety concerns as well. In addition, the plant had a significant amount of money tied up in their stock of spare parts. Oil shear crane brakes by Force Control Industries, however, eliminated the maintenance and adjustments (as well as the spares inventory) - and more importantly the downtime. Since installation the plant has had no lost downtime due to crane brake issues.
One 7 ½ ton Yale and six 20-ton Shaw Box cranes service the various areas of the plant floor. Workers often jog the cranes forward and backward to get materials into the precise spot. This constant stopping and starting wreaked havoc on the disc stack of the Stearns and Dings dry brakes that were originally installed on the cranes, requiring hours of maintenance.
"It was astronomical the amount of downtime and man-hours we were spending," the head electrician recalled. But the switch to MagnaShear Oil Shear Brakes from Force Control has eliminated the downtime, which keeps their production on schedule.