Posistop Air Actuated Coupler Brakes
Featured Product from Force Control Industries, Inc.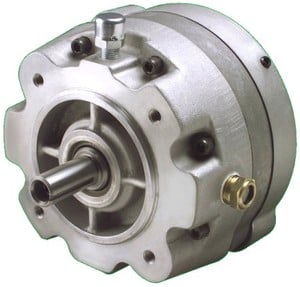 The Posistop Coupler Brakes are designed for long life with minimal maintenance in severe and critical applications. They are typically furnished as spring set, pressure release brakes however pressure set spring release is available in some models.
Posistop coupler brakes are designed to mount to the drive end of the motor, often between the motor and reducer. Coupler brakes can also be used on servo motors and air motors for hazardous duty applications.
Five model sizes offer torque from 6 Lb. Ft. to 2,030 Lb. Ft. and fit 56 frame up to 440 frame motors. Special flanges mountings can be furnished such as IEC, servo, air motor, or other custom flanges.
The standard shaft connection is a quill using a tapered collet providing a 360º clamped connection. Other quills are available including splined and bore and keyway.