Reduce Crane Brake Maintenance on Overhead Cranes
Featured Product from Force Control Industries, Inc.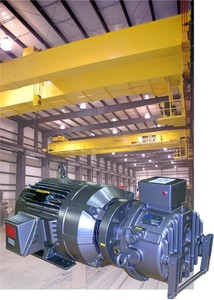 The advantages of Brakes with Oil Shear Technology over the competition:
Longer Life— 5 to 10 times the service life of most competitive
products.
No Regular Maintenance*—There is no regular maintenance
replacing friction discs, pads, shoes, or coils.
No Adjustment—Ever! - The unique design and Oil Shear Technology eliminates the need for any adjustment.
Quiet Operation—eliminate the sharp noise, squeal or screech
of engagement.
Higher Cycle Rates—Oil Shear Technology continuously removes heat of engagement in the friction stack.
Less Down Time—less chance of failure causing unexpected
downtime.
Totally enclosed—Outdoor, Washdown, or Marine Duty.
*Annual fluid change recommended for maximum performance and life.