Safer, No Adjustment-Ever! Tire Press Brakes
Featured Product from Force Control Industries, Inc.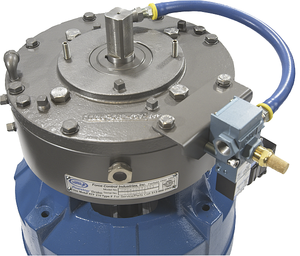 THE ADVANTAGE OF THE POSISTOP CPB BRAKES WITH OIL SHEAR TECHNOLOGY
Get the advantages of Oil Shear Technology.
The Posistop CPB offers significantly improved service life (estimated 10+ years) with no maintenance*, and no adjustment – ever!
The brake is spring set, direct acting air release, eliminating issues of coil burnout, corrosion, and constant adjustment and replacement.
The heavy duty totally enclosed brake system with precision machined parts guarantees performance, and is not affected by moisture, steam, oil, or heat.
Use the same brake for both vertical or horizontal applications.
Consistent torque throughout the life of the brake provides consistent stopping position.
This unique design will fit existing motors with the square shaft extending through the brake for emergency operation.
The CPB brake is simple to install. Just 3 easy steps. (1) Set it on the motor, (2) tighten 4 bolts, (3) make the air line and electrical connections. You are now ready to make tires.
*Annual fluid change suggested for maximum service life.
The Posistop CPB motor brakes with Oil Shear Technology are of the wet or hydroviscous type which transmit torque between the drive plates and friction surfaces through shearing of the fluid. Specially formulated transmission fluid is used for cooling and provides a hydroviscous fluid film between the friction disc and the drive plate during the dynamic phase of engagement.
The transmission fluid in shear transmits torque between the two components increasing as the clamping pressure increases until mechanical lock up occurs. By cooling the friction surfaces and reducing the mechanical wear, a significant increase of thermal capacity and total cycle life is possible.
Other tire press brakes depend on friction between dry surfaces to transmit torque. During engagement the high heat caused by slipping cannot be dissipated quickly through the surrounding air. This causes wear, glazing, and degradation of the friction material. This can reduce torque, leading to inaccurate stopping position, limited service life and potential safety issues. The Force Control CPB brake solves these problems.
THE SAFER—LONGER LASTING BRAKE