Customized Special Bearings with Direct Drive
Product Announcement from Franke GmbH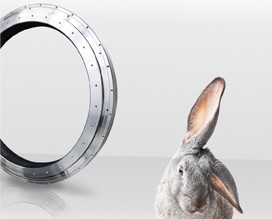 Customized Special Bearings with Direct Drive
Low noise and high capacity
The specialty bearing LDH Drive convinces due to quiet running, speed and energy efficiency.
Customer specific antifriction bearings are the speciality of the Franke GmbH. With the LDH Drive the company has developed a bearing that meets the customer request for a low noise emission at high speed.
Particularly in the field of CT bearings for medical technology, quiet running as far as possible at high speed is important. Franke has been working for years on continuous optimisation of this criterion. The development of the LDH Drive is to be considered in this context.
The speed of the bearing is in the range of 300 rpm. The reached noise emission is lower than 60 db(A). Further more a direct drive was integrated into the antifriction bearing - no toothed belt or pinions, no further mechanical devices or gear connection: The new LDH Drive reaches its maximum speed of 300 rpm via direct drive.
Rotor and stator are arranged in the bearing cross section, a transmitter system controls acceleration and speed. This is a system solution from which the customers benefit in several ways. Firstly, they obtain a complete system consisting of bearing and drive and thus do not need to buy a drive in addition or design one which would be expensive. Secondly, this version is extremely energy efficient which permits to reduce costs and protects environment at the same time.
Read more about our LDH Drives on our website
Download more information (PDF):
Products with Countless Design Possibilities
The Franke principle produces an extremely compact bearing, which also suits very small spaces and offers the most diverse design possibilities. Four race rings fit their raceway thanks to a specially developed grinding procedure - exactly adjusted to the ball diameter. Therefore, the rolling process does not occur directly between the rolling elements and mating structure, but rather smoothly on the four open race rings.
Welcome to Franke GmbH
We develop and produce Antifriction Bearings and Linear Systems, which are precisely adjusted to suit the needs of our Global customers. Individuality and quality are our trademarks. Use this link below to view a representative in your area

Play Customized Special Bearings with Direct Drive Video
---