Medical Sealers from Fuji Impulse America
Product Announcement from Fuji Impulse America Corp.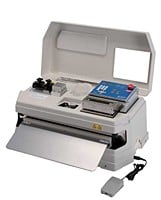 To verify the consistent sealing quality, this totally innovative medical sealer, MS-451PV integrates in-process seal test devices - Peel Tensile Tester and Visual Inspection Unit. MS-451PV is distinguished from any other sealers in the market for its original self-inspection functionality and data management system.

1) Peel Tensile Tester: This unit verifies the seal strength in the proper range for easy peeling of sterilized pouches. The inspection mode starts automatically at the preset frequency. It is integrated into the sealer body and allows all seal strength study results transferred to your PC. If the peel test is not to meet the preset figure of your quality standard, unit will lockout the continued operation.
2) Visual Inspection Unit: With a built-in 3X magnification and LED lighting structure, the sealer model provides a great tool for non-destructive in-process seal inspection to visually evaluate seal surface to identify the decay of seal integrity and strength. The unit exaggerates even imperceptible sealing defection such as creep or wrinkles, which could result in recall once it reaches the market.
All the inspection and sealing data (such as heating and cooling temperatures and sealing pressure as well as created date and time) are to be transferred to the data and recording management system in your PC. Also this sealer is installed with the temperature controlling ONPUL system to assure the optimum heating temperature for each packaging materials, offering consistent, strong and beautiful seals.
Main Features
Impulse Sealer: Ready for use as soon as the power is turned on.
Temperature controlling ONPUL system standard equipped.
The heater mounted on the top to package the transparent surface of sterilze bags facing upward.
Daily use frequency as model selsction guideline: 3,000 bags, electric
Compatible packaging material (thotal thickness of two or more sheets):

PE 0.3mm/11.8mil, PP 0.3mm/11.8mil, NY 0.3mm/11.8mil, PVA 0.3mm/11.8mil, and other laminated materials 0.4mm/15.7mil
---