Low Power Consumption Handheld Multimeter - OW18E
Featured Product from Fujian Lilliput Optoelectronics Technology Co., Ltd.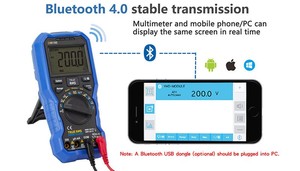 OW18E is a 4-1/2 bit multimeter. It continues the blue-tooth function of 41 series and supports synchronous Monitoring and offline recording of multiple multimeter. It can update the measurement data in real-time and automatically record to the mobile terminal, and display it in chart mode.
OW18E has lower power consumption and longer standby time.
Features
4 1/2 bit resolution (20000counts)
Data Logger + Multimeter + Thermometer
True RMS test supported
BLE 4.0 wireless transmission, more stable, less power consumption
Build-in offline record function
Chart and Diagram mode helps to analyze the data tendency
Flashlight function lightens the darkness
Support NCV non-contact voltage sense
Widely supported on Android, iOS, windows