Wireless transmission-Bluetooth multimeter OW18B
Featured Product from Fujian Lilliput Optoelectronics Technology Co., Ltd.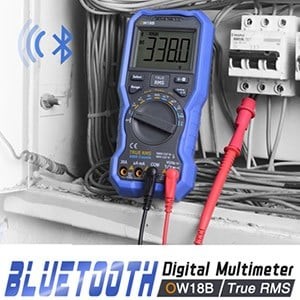 Have you encountered these problems when using a multimeter to measure? It takes a long time to monitor data, but staying at the test site to monitor is time-consuming and laborious; the high-risk test environment poses a threat to the personal safety of testers; the test environment is too narrow for personnel to enter; it needs to be connected or connected in a place far away from the test site. Turn off the switch. Now, as long as you own an OW18B, you can easily solve these problems.
The OW18B multimeter can be wirelessly connected to a mobile phone via Bluetooth, monitor and record data in real time, and remotely control the multimeter, which can keep the measuring personnel away from dangerous areas and fully guarantee personal safety. Data can be recorded for a long time, displayed on the mobile phone as a trend chart or table, which is convenient for analysis and supports offline recording.
After installing the APP on the mobile phone and successfully connecting, you can easily realize real-time monitoring, remote control, data recording, storage and sharing of measurement data.
Features:
3 5/6 bit resolution

True RMS test supported

Flashlight function lightens the darkness

Support NCV non-contact voltage sense
Benefits:
Data Logger + Multimeter + Thermometer

BLE 4.0 wireless transmission, more stable, less power consumption

Build-in offline record function

Chart and Diagram mode helps to analyze the data tendency

Widely supported on Android, iOS
Typical Applications:
Long-term data monitoring
High-risk test environment
Narrow test environment
Turn on or off the switch far away from the test site