Lithium Battery Feedthroughs
Product Announcement from Fusite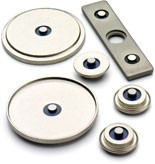 Lithium Battery Feedthroughs
Fusite manufactures battery seals designed for extreme temperature environments and long-endurance applications. Fusite's glass-to-metal seals can also withstand the harshest corrosives.
Fusite employs specialized high-volume manufacturing processes and techniques, such as proprietary corrosion-resistant glasses, vision inspection, and vibratory assembly machinery. This provides the best overall value and highest reliability whether the requirement is for a small quantity of prototypes or millions of units.
Applications
Fusite high reliability battery seals and lids are used worldwide in aerospace power and automotive mixed-use applications, as well as military hand-held radio communications, surveillance systems, and battery back-up systems.
Typical Specifications
With long-proven industry experience, Fusite is able to combine pure metals ( such as molybdenum used in feedthrough pins and stainless or cold-rolled steel used in battery bodies) with highly durable glasses (as inTA-23) in battery seals and lids for the utmost in reliability, performance, and durability.
Hermeticity: Better than 1x10-8 cc/sec helium
Available in multiple formulations, including lithium thionyl chloride, lithium sulphur dioxide, and lithium manganese dioxide
Standard sizes include A through D
Models can be either resistance- or laser-welded onto a battery lid
For any application requiring hermetic battery seals, lids, terminals, or batteries requiring lithium or silver-zinc hermetic seals
Customization
Fusite engineers are experts at creating custom designs to meet engineering specifications, often turning prototype drawings around in less than 24 hours. With broad and deep experience, each Fusite custom design has the highest degree of performance reliability available today.
---