S-Bearm Jr. Minaiture Load Cell, Broad Capacity
Product Announcement from FUTEK Advanced Sensor Technology, Inc.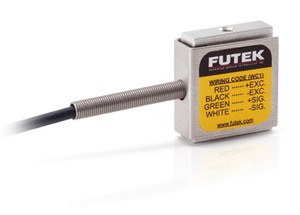 The S-Beam Jr. (LSB200) is a Miniature Load Cell that is able to measure compression and tensile forces in the range of 10 grams to 100 lbs (444 Newtons). The miniature size and broad capacity range makes this model extremely dynamic in the industries and applications it can be utilized in. This model has become one of FUTEK's most popular products with design features such as its overload protection, lifetime warranty and thread options for both American and Metric standard. By pairing the S-Beam Jr. with our wide range of accessories and instruments, there is the added benefit of creating a sensor system. FUTEK's electronic line includes a range of displays, amplifiers, and USB output kits which are integrated to work seamlessly with the S-Beam Jr. thru our accredited calibration laboratory.
Full Compatibility
FUTEK designed the LSB200 Miniature S-Beam Jr. Load Cell to work alongside bench top displays, handheld displays, and USB Solutions. Compatible for FUTEK's entire instrument line, the LSB200 has the capability to measure results down to the microgram
Lifetime Warranty
FUTEK offers a lifetime warranty with the LSB200 against manufacturing defects. The engineers of FUTEK provide this service to guarantee our customs peace of mind and assurance that our miniature load cell solution will work within your application's requirements.
Applications
With over a decade of manufacturing experience on the LSB200, FUTEK has seen this miniature load cell utilized in industry applications like medical testing, pharmaceutical research, aerospace safety analysis, robotics and automation, and process control.
---