Thru-Hole Load Cell Series
Product Announcement from FUTEK Advanced Sensor Technology, Inc.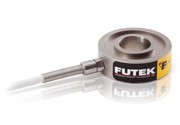 Within FUTEK's Thru-Hole/Donut Load Cells (LTH Series) exist an impressive array of robust sensors. As an In-Line compressive load cell line, the standard Thru-Hole Load Cells cover a capacity range of 50 lbs. to 50,000 lbs. Also, the LTH Series has over a dozen inner diameter variations and cable exits making them extremely versatile.
LTH Miniatures
FUTEK's engineering team understands that space constraints play a significant role in test-measurement platforms. Thus, miniature sensor models are most advantageous for many applications. FUTEK's LTH Series includes several miniature models for this reason.
Learn More >
Customizable Capabilities

FUTEK's Thru-Hole Load Cell Series offers various customizable capabilities to support your application's unique requirements. From cryogenic to specialized inner diameter measurements, FUTEK engineers can work within your specifications.
Learn More >
Unique Applications
FUTEK's Thru-Hole Load Cells have received great recognition due to their many application uses. Most recently, FUTEK created a custom cryogenic thru-hole/donut load cell to operate aboard NASA JPL's Mars Rover: Curiosity.
Learn More >
---