Isolated DC-DC Converter: 35W Series
Product Announcement from GAIA Converter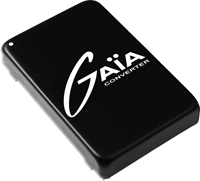 The MGDM-35 wide input series is a full family of DC/DC power modules designed for aerospace, military and high-end industrial applications. Available in single, dual or triple outputs. Wide input voltage ranges.
Specifications
Standard 3" x 2" package
Nominal power up to 35W without derating
High efficiency up to 89 %
Soft start
Galvanic isolation 1.500 VDC
Integrated LC EMI filter
No load to full load operation
External synchronisation
Trim adjustment
Permanent short circuit protection
No optocoupler for high reliability
On/Off function
Download data sheet for additional product details.
About GAIA Converter
With over 3500 references, Gaia Converter product offering is specialized in DC power electronic applications with harsh environments with DC-DC, AC-DC converters, EMI filters and all sorts of front end protection modules: Military, Avionics, Transportations & Industrial applications.



---