Spike Suppressor Module: 50W Series
Product Announcement from GAIA Converter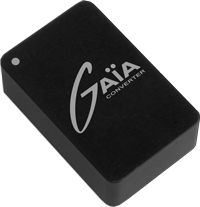 The Gaïa Converter limitor LGDS-50 Series designates an active power adaptor module designed to protect electronical systems against fast transient and high spike levels that can occur from an input bus line with no voltage stabilization devices.
Specifications
Spike suppressor module
- EN61000-4-5 level 4
- EN50155 level 1.800V
- RIA 12
Transient suppressor module
- EN50155
- IEC 571
- RIA 12
Input reverse polarity protection
High efficiency (98%)
Power range : from 4W to 50W
Integrated EMI filter
Inhibition function
Download data sheet for additional product details.
About GAIA Converter
With over 3500 references, Gaia Converter product offering is specialized in DC power electronic applications with harsh environments with DC-DC, AC-DC converters, EMI filters and all sorts of front end protection modules: Military, Avionics, Transportations & Industrial applications.



---