Custom Filter Plates for Nutsche Filters
Featured Product from G. Bopp USA Inc.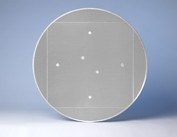 G Bopp USA offers custom fabricated components and services for Nutsche filters used predominantly in the chemical and pharmaceutical industries.

Nutsche Filters perform a range of demanding tasks in these industries, and downtime for repairs can be costly in terms of both materials and lost production.
Bopp comprehensive selection of sintered, multi-layer woven wire mesh laminates are exact replacements in most nutsche filters.
All fabrications/repairs are carried out using Bopp's precision, high quality sintered materials produced in Switzerland by parent company G Bopp & Co AG.
Bopp enjoys a universal history of documented successful Nutsche filter replacements, working with a team of specialists and backed by Swiss technical expertise.