MULTIPLE LAYER FILTER MEDIA
Featured Product from G. Bopp USA Inc.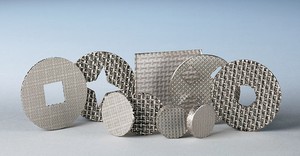 For challenging applications in filtration, sintered steel meshes are now increasingly used instead of filter meshes. Here, a selected range of meshes are bonded together using heat and pressure. This effectively combines the performance advantages of each individual mesh layer and results in optimisation of the filtration process. The resultant bonded mesh enables the finest filtration to be achieved, but thanks to the robust mesh structure, the medium is resistant to physical loading. The smooth surface also offers advantages for the cleaning process when backwashing.
PROPERTIES AND ADVANTAGES
Defined finest aperture size and regular pore distribution
Extremely robust, resistant to mechanical and thermal loading (up to 600oC dependent upon alloy), long service life, therefore reduced downtime
High flow rates, selectable flow resistance
Optimum backwashing capability, advanced reliability in terms of backwashing pressure
Reduced loading of the filter medium in pulsation
Consistent product quality, advanced levels of corrosion resistance with the use of noble metals such as stainless steel, Hastelloy, Inconel etc.
Wide range of combinations up to 1000 layers possible

Disk sizes up to 1200 x 1200mm possible without welding