Homogenizer Systems
Product Announcement from GEA Process Engineering Inc.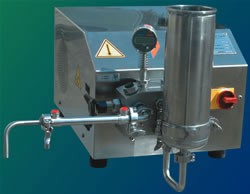 Homogenizer SystemsThe GEA Liquid Processing portfolio of technologies includes the Niro Soavi VHP Homogenizer Systems which have become the industry standard for particle size reduction and cell rupture in pharmaceutical and biotech manufacturing. At the core of the Niro Soavi VHP System is the Niro Soavi homogenizer, renowned for its robust design, clean-ability, and ease of maintenance.
For biologic cell lysing, the Niro Soavi VHP Homogenizer System offers distinct advantages over chemical lysing and impinging flow type technologies. Whereas chemical lysing require additional costly purification and recovery process steps to yield the desired product, the Niro Soavi VHP system require no additional processing steps, achieving yields of better than 90% on a single pass. Unlike cell lysing with impinging flow type equipment, the Niro Soavi VHP Systems can be easily scaled from the lab and pilot systems through to the commercial size systems.
Particle size applications for the pharmaceutical industry can be accomplished at lower pressures than competing technologies because of the high efficiency sharp profile rupture valve. Components in the VHP system are constructed of high strength, non-shedding materials so that no unwanted matter contaminates the product.
---