Rewet Agglomeration
Product Announcement from GEA Process Engineering Inc.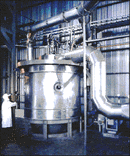 Fine sized powders (or powder mixes) require agglomeration in order to become instant, free-flowing and dust-less consumer products (with fixed micro-composition).
Rewet agglomeration involves dispersion of the fine powder in air, rewetting it by mixing it with small droplets of liquid to form loose agglomerates with point-to-point contact. The material handling during the agglomeration process itself is specially controlled according to the desired properties of the end-product.
The agglomerates are dried, cooled and screened. Fines and milled oversize material are recycled.
Product: Can produce very coarse instant, free-flowing and dustless products
Rewet Agglomeration
Since many powders may become instant by the mere agglomeration, many processes have been developed during the past years to agglomerate ordinary powders consisting of single spray particles usually produced in plants with pneumatic conveying systems.
The historic development started with the pioneering research of Mr. David D. Peebles in the beginning of the fifties, and instantized non-fat dry milk was marketed from 1954. Soon it replaced the regular spray dried products on the retail market.
Another example is the principle of a method developed by Nestlé for agglomerating milk powders, chocolate-flavored beverages and soups. When agglomerating skim milk powders the tank (1) would contain a 10% solution of skim milk solids in water cooled to about 6°C. The liquid is sprayed at a pressure of 20 bar by means of the pump (2) and nozzle (3), which is designed to give a flat jet with a high velocity of up to 8 m/sec. Skim milk powder, which is fed by means of a vibrator/screw conveyor (4), is dispersed over the jet where the single powder particles become rewetted to a moisture sufficiently high (10-15%) to make them sticky on the surface, so than any collision between particles will result in an agglomeration in the chamber (5). The powder is finally dried at 90°C to 3% moisture (6) and bagged off.
---